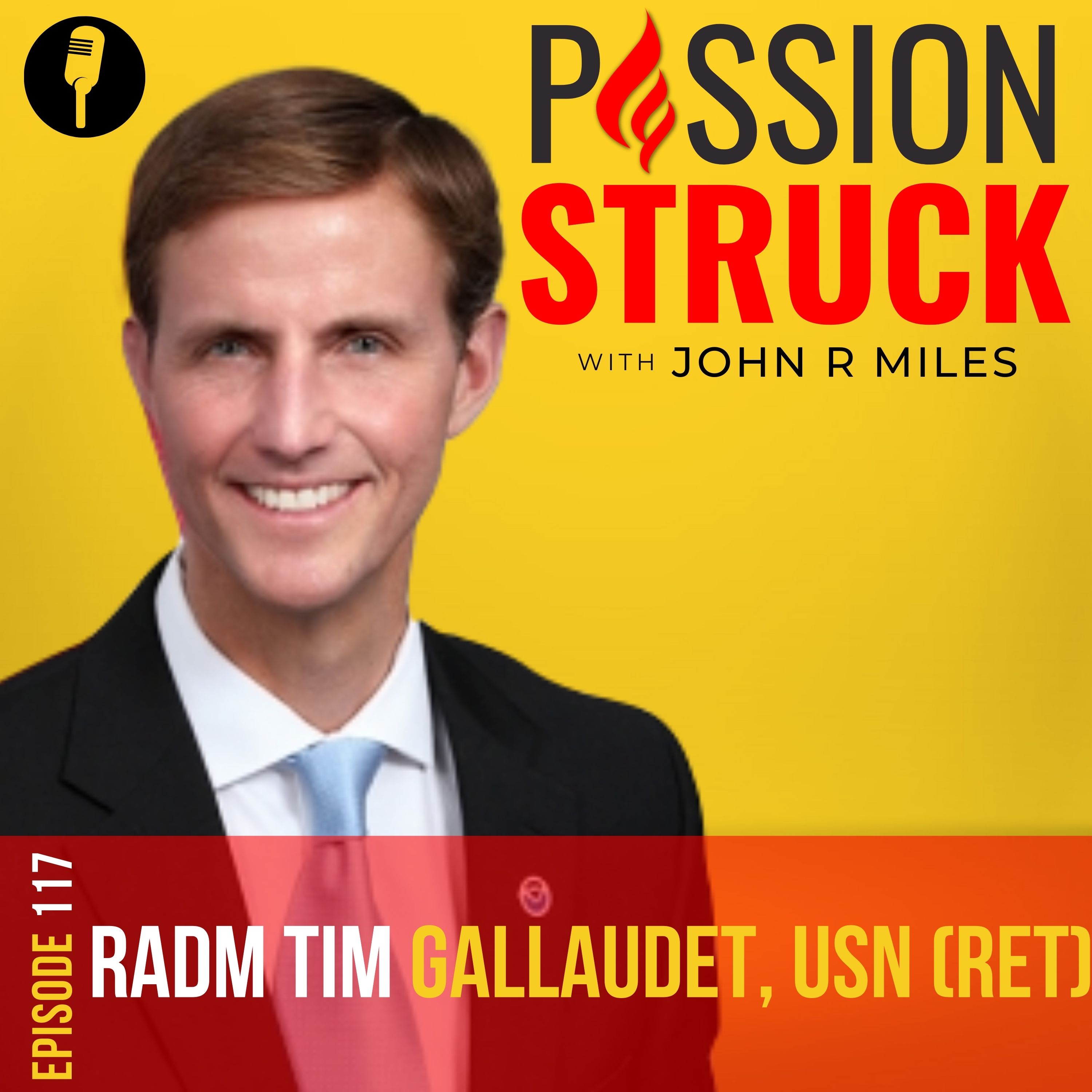 The Honorable Tim Gallaudet, Ph.D., Rear Admiral, U.S. Navy (Ret), is the CEO of Ocean STL Consulting, LLC. Gallaudet served as the Acting Under Secretary of Commerce for Oceans and Atmosphere/NOAA Administrator and before that Assistant Secretary of Commerce for Oceans and Atmosphere/Deputy NOAA Administrator. Prior to NOAA, Admiral Gallaudet served for 32 years in the U.S. Navy, completing his career as the Oceanographer of the Navy. He was the American Blue Economy Podcast host from 2017 to 2021.
I sit down with Admiral Gallaudet to discuss his advice on holding fast in heavy seas and navigating turbulent times. We discuss Gallaudet's experience at the U.S. Naval Academy, and how that shaped the future leader he would become. Why some of his biggest lessons were learned from his time competitive swimming. What it means to be the Oceanagropher of the U.S. Navy and what that entails. His experience leading the National Oceanic and Atmospheric Administration (NOAA). Some of the major initiatives he oversaw. The importance of the Blue Ocean Economy initiative and his focus on climate change, sustainable fishing, and preserving coral reefs. We discuss Tim's leadership principles and lastly his upcoming book Holding Fast in Heavy Seas.
Thank you for listening to the Passion Struck podcast. I hope you keep up with the weekly videos I post on my YouTube channel, subscribe to, and share your learnings with those who need to hear them. Your comments are my oxygen, so please take a second and say 'Hey' ;). -- ► Subscribe to My Channel Here: https://www.youtube.com/c/JohnRMiles. 
Thank You to Our Sponsors:
Time Stamps
0:00 Introduction and Announcements
5:18 Green Chef and Ten Thousand
8:13 U.S. Naval Academy Experience
10:02 How competitive swimming impacted his life
13:00 USS Kitty Hawk Experience
15:46 What does an oceanographer do?
19:34 What does it mean to be that oceanographer for the U.S. Navy?
21:37 What is the NOAA mission and why is it important?
23:14 What is the blue economy initiative?
26:32 The impacts of climate change
29:50 Creating unmanned maritime systems
32:33 NOAA's partnership with Vulcan skylight system
37:07 The responsibility of the Undersecretary of Commerce
38:41 How leadership defined Tim Gallaudet's career
42:18 Tim's unique ability to remember people's names
48:12 What is more important EQ or AQ?
49:15 His upcoming book Holding Fast in Heavy Seas
53:52 Importance of public-private partnerships
55:18 Rapid question round
56:52 Conclusion and Synthesis
Follow RADM Tim Gallaudet
Socials:
* Twitter: https://twitter.com/Milesjohnr
* Facebook: https://www.facebook.com/johnrmiles.c0m
* Medium: https://medium.com/@JohnRMiles
​* Instagram: https://www.instagram.com/john_r_miles
* LinkedIn: https://www.linkedin.com/in/milesjohn/
* Blog: https://passionstruck.com/blog/
* Instagram: https://www.instagram.com/passion_struck_podcast/
* Gear: https://www.zazzle.com/store/passion_struck/
-- John R Miles is a serial entrepreneur and the CEO and founder of Passion Struck. This full-service media company helps people live intentionally by creating best-in-class educational and entertainment content. John is also a prolific public speaker, venture capitalist, and author named to the ComputerWorld Top 100 IT Leaders.
John is the host of the Passion Struck Podcast;  a show focused on exploring the mindset and philosophy world's most insightful people to learn their lessons to living intentionally and becoming the masters of their own life and destiny. Passion Struck aspires to speak to the humanity of people in a way that makes them want to live better, be better and impact.
Stay tunJohn's John's latest project, his upcoming book, which will be published in summer 2022. Learn more about me: https://johnrmiles.com.
New to this channel and the passion-struck podcast? Check out our starter packs which are our favorite episodes grouped by topic, to allow you to get a sense of all the podcast has to offer. Go to Spotify or https://passionstruck.com/starter-packs/.
Like this? Please join me on my new platform for peak performance, life coaching, self-improvement, intentional living, and personal growth: https://passionstruck.com/ and sign up for our email list.