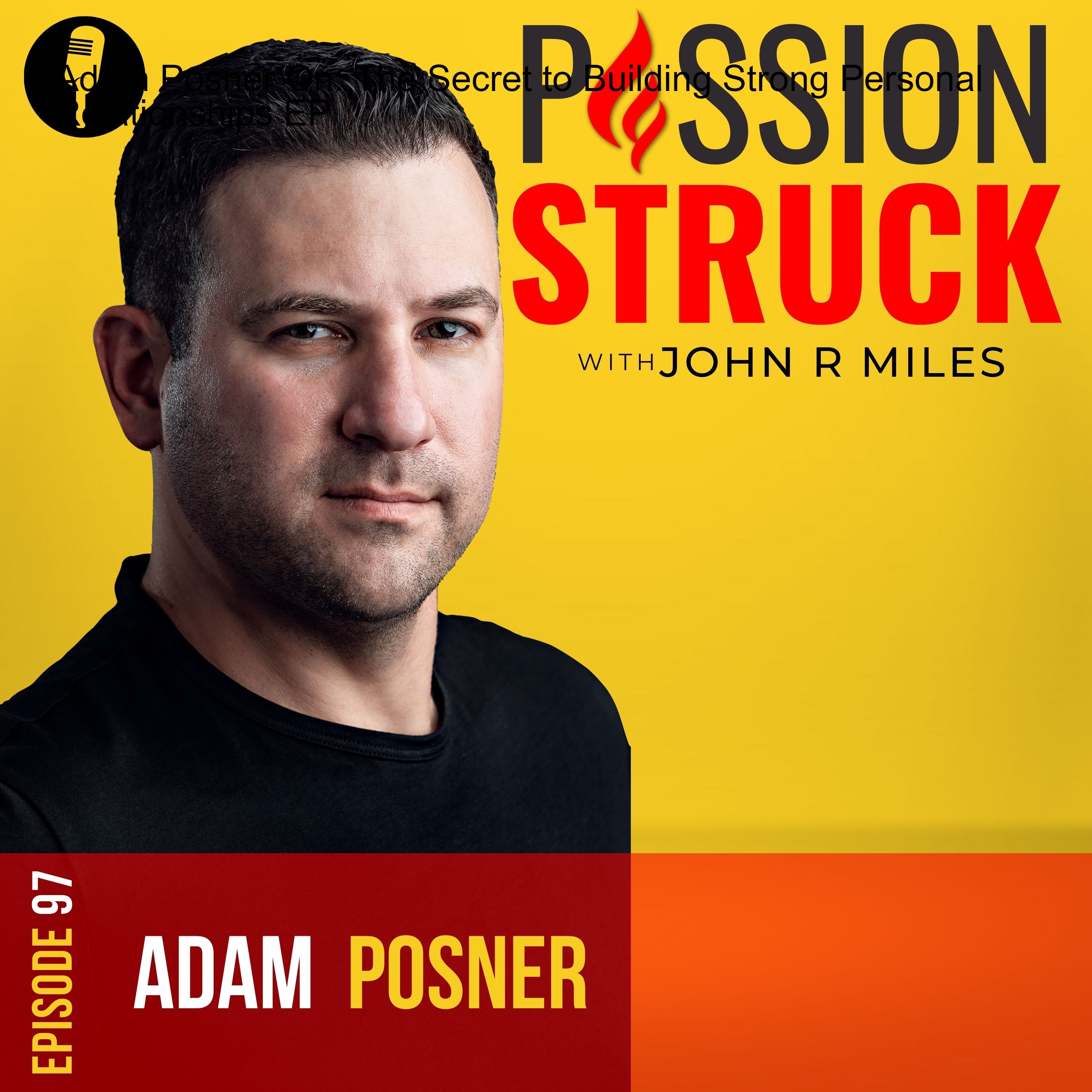 Adam Posner is the Founder and  President at NHP Talent Group and the host of the top career podcast, ThePOZcast- showcasing experts to help you harness your inner tenacity to drive your life and career forward. In today's episode, Adam speaks to John R. Miles about the secret to connecting powerful relationships.
The two discuss why Adam left the corporate world to pursue recruiting. We go into the most significant advice that he ever received from Gary Vee when he worked for Gary at Vayner Media. The lesson he learned and applying that advice to building the second chapter of his life and becoming a master connector of people and companies. We go into many topics on career advice and today's trends. The dos and don'ts for things like cover letters and your resume writing. How you should approach a recruiter whom you have never met. How do you properly use LinkedIn to best showcase your personal brand? What is the best way to create a profile on LinkedIn? And then, we end the episode by talking about our advice on podcasting. 
Have You Tried Nutrafol?
80 Million Americans (both men and women) experience thinning hair. It's common- even normal, but it's not openly discussed, so going through it can feel lonely and frustrating. It's time to change the conversation and join the thousands of people standing up for their strands with Nutrafol. You can grow thicker, healthier hair AND support our show by going to www.Nutrafol.com and using promo code PASSIONSTRUCK to save FIFTEEN DOLLARS OFF your first month's subscription - this is their BEST OFFER available ANYWHERE, and it's only available to US customers for a limited time.
WE NOW HAVE PASSION STRUCK PODCAST STARTER PACKS
New to this channel and the passion-struck podcast? Check out our starter packs which are our favorite episodes grouped by topic, to allow you to get a sense of all the podcast has to offer. Go to https://passionstruck.com/starter-packs/.
Learn more about me: https://johnrmiles.com.
SHOW NOTES
0:00 Introduction to Adam Posner
3:41 Embracing collaboration over competition
4:55 The importance of not blaming others
11:40 What it is like to work for Gary Vaynerchuk
16:01 Double down on your strengths
18:56 How the job market is shifting
24:24 The switch to virtual interviewing
26:35 Dos and Donts for a resume and cover letters
31:29 Do you put a photo on your resume?
33:20 How to send an email to a recruiter
38:30 When it is best to talk about compensation
43:11 How to make a LinkedIn profile stand out
47:30 How Adam Posner got into podcasting
50:11 Podcasting best practices
FOLLOW ADAM POSNER
*Instagram: https://www.instagram.com/nhptalent/
*Website: https://www.nhptalentgroup.com/
*Podcast: www.thePOZcast.com
*LinkedIn: https://www.linkedin.com/in/adamjposner/
FOLLOW JOHN R. MILES ON THE SOCIALS
* Twitter: https://twitter.com/Milesjohnr
* Facebook: https://www.facebook.com/johnrmiles.c0m
* Medium: https://medium.com/@JohnRMiles​
* Instagram: https://www.instagram.com/john_r_miles
* LinkedIn: https://www.linkedin.com/company/JohnMiles
* Blog: https://passionstruck.com/blog/
* Instagram: https://www.instagram.com/passion_struck_podcast
====== ABOUT JOHN ======
John R. Miles leads a global movement called Passion Struck. He is passionate about being the catalyst who helps individuals expand into the most excellent version of themselves, unlocking the most no regrets life possible. He is a combat veteran, multi-industry CEO, successful entrepreneur, top podcast host, and author who is helping people worldwide regain their passion. John is one of the most-watched, quoted, and followed high-performance trainers globally, and his leadership acumen spans more than two decades. He's founded or co-founded more than half a dozen successful start-ups, was a Fortune 50 CIO and CISO, mentors rising entrepreneurs, and invests in successful tech ventures. He graduated from the U.S. Naval Academy, where he learned vital leadership skills and was a multi-sport Division 1 athlete.
Like this? Please join me on my new platform for peak performance, life coaching, self-improvement, intentional living, and personal growth: https://passionstruck.com/ and sign up for our email list.