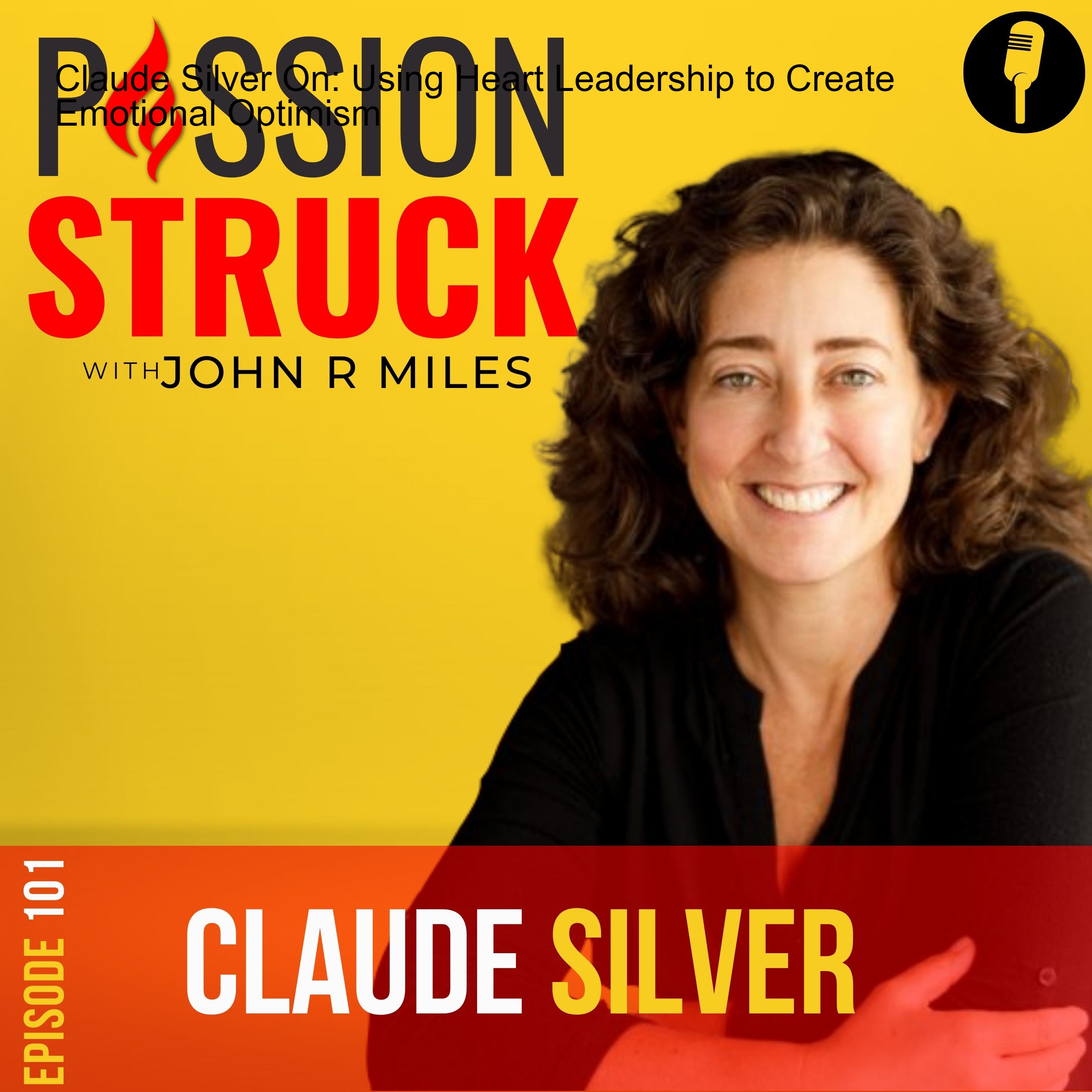 In this episode, John R. Miles is joined by Claude Silver, Chief Heart Officer of VaynerX, the host of the emotional optimism podcast, and a pioneering world leader in the power of heart leadership.
They discuss her role as the Chief Heart Officer and how it differs from a typical chief human resources officer. Miles and Silver explore what it means to have strong-hearted leadership and why misery attracts misery, but, simultaneously, the right kind of company can help heal misery. They discuss what it means to have emotional optimism and its role in someone having a positive and purposeful life. Her goals from Emotional Optimism which personal prescription of leadership tips, empathetic food for thought, and courageous and real convos! Claude Silver reveals her favorite things about working with Gary Vee and so much more.
This conversation serves as a sort of "masterclass" on the science of emotional optimism and strong-hearted leadership which impacts passion, purpose, and performance.
New to this channel and the passion-struck podcast? Check out our starter packs which are our favorite episodes grouped by topic, to allow you to get a sense of all the podcast has to offer. Go to https://passionstruck.com/starter-packs/.
Have You Tried BetterHELP?
BetterHELP is making professional therapy accessible, affordable, and convenient — so anyone who struggles with life's challenges can get help, anytime and anywhere. BetterHELP offers access to licensed, trained, experienced, and accredited psychologists, marriage and family therapists, clinical social workers, and board licensed professional counselors. BetterHELP wants you to start living a happier life AND is offering Passion Struck listeners 10% off your first month by visiting www.betterhelp.com/passionstruck.
4x4x48 Challenge in Support of Special Forces and Veteran Non-Profits
We have an exciting and important announcement. I was asked by my friend, retired Green Beret Andrew Marr, and his brother Adam Marr (Army Apache Pilot) to sponsor, fundraise, and participate in this year's 4x4x48 challenge. This challenge is a cause near and dear to my heart as I am one of the veterans that these organizations have helped overcome my struggles with mental health and the long-term impact of Traumatic Brain Injury. If you are interested in supporting our efforts, please go to: https://give.warriorangelsfoundation.org/team/400731.
SHOW NOTES
0:00 Show Introduction
1:40 4x4x48 Challenge
2:56 Introducing Claude Silver
4:28 BetterHELP 6:22 What is a Chief Heart Officer?
9:13 Confronting employee disengagement
12:48 Defining heart leadership
14:40 Importance of relationship building
18:00 Importance of emotional intelligence
22:42 Importance of empathy
23:30 Emotional optimism
31:00 It's not about being right, it's being better
36:31 Importance of emotional agility
38:45 Can't achieve success without pain
40:44 How a company can build a heart culture
44:05 Speaking with your feet
47:01 The Yes virus
52:31 What is Gary Vee like as a boss
56:20 Rapid Round of Questions
LINKS FROM TODAY'S SHOW
* LinkedIn: https://www.linkedin.com/in/casilver/
* Twitter: https://twitter.com/claudesilver
* Instagram: https://www.instagram.com/claudesilver/
* VaynerX Website: https://vaynerx.com/
* Claude Silver's Personal Website: https://www.claudesilver.com/
* A Whole New Mind by Daniel H. Pink
* Broken Horses: A Memoir by Brandi Carlile
Connect With John R. Miles
* Twitter: https://twitter.com/John_RMILES
* Facebook: https://www.facebook.com/johnrmiles.c0m
* Medium: https://medium.com/@JohnRMiles​
* Instagram: https://www.instagram.com/john_r_miles
* LinkedIn: https://www.linkedin.com/company/JohnMiles
* Blog: https://passionstruck.com/blog/
* Instagram: https://www.instagram.com/passion_struck_podcast
John R. Miles is a globally recognized high-performance coach, life and business strategist, military veteran, and one of the most-watched quoted and followed personal growth trainers globally. John is a highly sought-after speaker, coach, author and makes frequent media appearances to discuss how to transition from being passion struck to becoming PASSION STRUCK! He is passionate about being the catalyst who helps individuals expand into the most excellent version of themselves, unlocking the most legendary life possible.