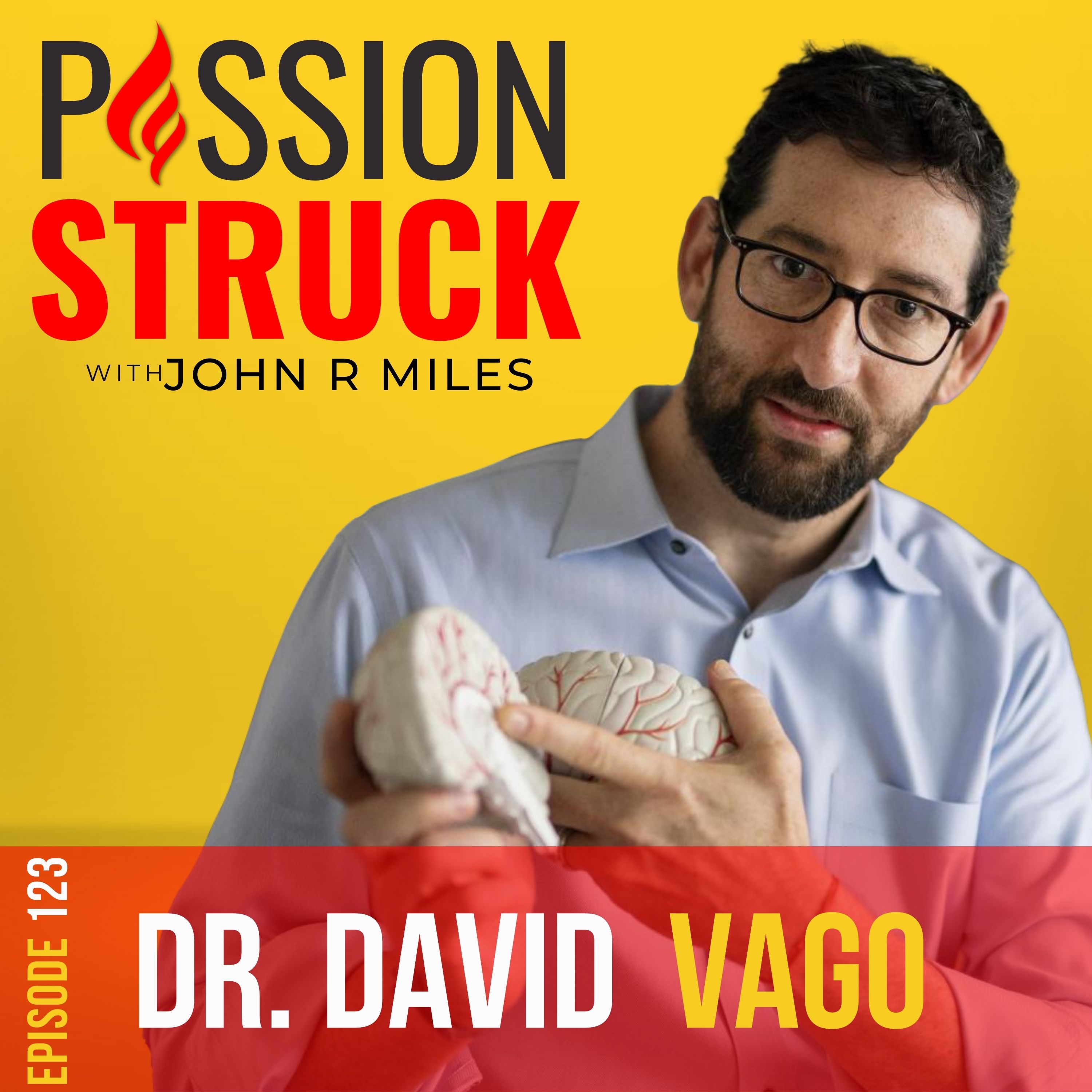 Dr. David Vago on self-transcendence - how to experience personal growth and awakening through meditation and meta-awareness | Brought to you by Babbel (https://babbel.com/passionstruck).
David Vago, Ph.D., is on a mission to alleviate suffering and improve well-being through investigating connections between the mind, brain, and body. He is a Research Associate Professor and Director of the Contemplative Neuroscience and Mind-Body Research Laboratory in the Department of Psychology at Vanderbilt University. He is part of the faculty for the Vanderbilt Brain Institute and Vanderbilt Institute for Infection, Immunology, and Inflammation. Dr. Vago maintains a research associate position in the Functional Neuroimaging Laboratory, Brigham and Women's Hospital, Harvard Medical School, and is also Research Lead for the mental health and well-being platform, Roundglass, and a Mind and Life Institute Fellow. Over one million people have viewed Dr. Vago's Ted Talk on self-transformation.
How Self-Transcendence Impacts Your Self-Identity
Self-transcendence is the idea that there is something to transcend the self as if the self is something that is created through time. Over time, you have certain thoughts and emotions that construct your self-identity. It is a clinical model of self-reification, right conditioning, and habit formation. It all leads to how we conceptualize our identity, our needs, wants, fears, expectations, attitudes, and values. It is how our whole worldview is constructed. And so what meditation does, is it allows you to create a distance with those thoughts to find your greatest peace.
Please enjoy Dr. David Vago's episode and leave us a 5-Star rating if you love the episode. I know Dr. Vago and I would appreciate seeing listener comments. If you would like to watch this episode in addition to listening to it, you can view it here on our YouTube Channel. Please subscribe.
Thank You To Our Sponsor
This episode of Passion Struck with John R. Miles is brought to you by Babbel. The comprehensive learning system that combines effective education methods with state-of-the-art technology. Save up to 60 % off your subscription when you go to www.babbel.com/passionstruck. 
Our Patreon Page: https://www.patreon.com/passionstruck.
► Subscribe to My YouTube Channel Here: https://www.youtube.com/c/JohnRMiles
Links from the Show:
Follow Dr. David Vago
* Website: https://www.contemplativeneurosciences.com/ 
* Instagram: https://www.instagram.com/dave_vago/\
*Twitter: https://twitter.com/dave_vago
*LinkedIn: https://www.linkedin.com/in/drvago/
*Roundglass: https://living.round.glass/sunny/people/David_Vago7n1k0lef/expert-profile
Follow John on the Socials:
* Twitter: https://twitter.com/Milesjohnr
* Facebook: https://www.facebook.com/johnrmiles.c0m
* Medium: https://medium.com/@JohnRMiles
​* Instagram: https://www.instagram.com/john_r_miles
* LinkedIn: https://www.linkedin.com/in/milesjohn/
* Blog: https://passionstruck.com/blog/
* Instagram: https://www.instagram.com/passion_struck_podcast/
* Gear: https://www.zazzle.com/store/passion_struck/
-- John R Miles is a serial entrepreneur and the CEO and founder of Passion Struck. This full-service media company helps people live intentionally by creating best-in-class educational and entertainment content. John is also a prolific public speaker, venture capitalist, and author named to the ComputerWorld Top 100 IT Leaders.
John is the host of the Passion Struck Podcast;  a show focused on exploring the mindset and philosophy world's most insightful people to learn their lessons to living intentionally and becoming the masters of their own life and destiny. Passion Struck aspires to speak to the humanity of people in a way that makes them want to live better, be better and impact.
Stay tuned for John's John's latest project, his upcoming book, which will be published in summer 2022. Learn more about me: https://johnrmiles.com.
New to this channel and the passion-struck podcast? Check out our starter packs which are our favorite episodes grouped by topic, to allow you to get a sense of all the podcast has to offer. Go to Spotify or https://passionstruck.com/starter-packs/.
Like this? Please join me on my new platform for peak performance, life coaching, self-improvement, intentional living, and personal growth: https://passionstruck.com/ and sign up for our email list.