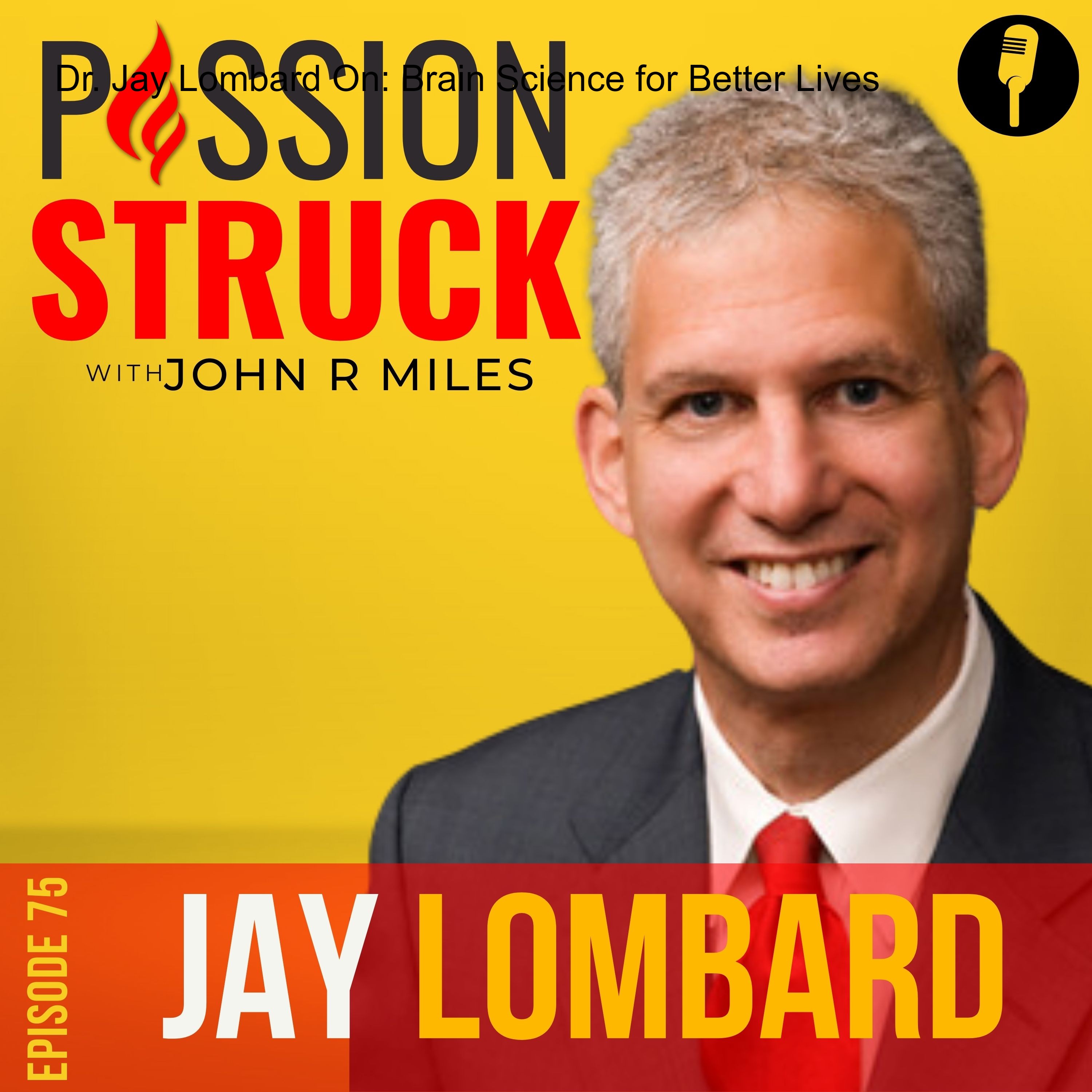 Dr. Jay Lombard is an internationally acclaimed neurologist, author, and keynote speaker who creates solutions for brain health and intractable neurological disorders. He sits down with John R Miles to talk about brain science for better lives and his research that are allowing both the prevention and treatment of neurological disorders such as ALS, Parkinson's disease, and Alzheimer's.
New to the passion-struck podcast? Check out our starter packs which are our favorite episodes grouped by topic, to allow you to get a sense of all the podcast has to offer. Go to https://passionstruck.com/starter-packs/.
Like this? Please subscribe, and join me on my new platform for peak performance, life coaching, and personal growth: https://www.youtube.com/c/JohnRMiles/.
Mentioned In this Episode: Everything ALS, https://www.everythingals.org/.
Also, check out Dr. Jay Lombard's book: The Mind of God: https://amzn.to/3pBoUts.
Thank you for listening to the Passion Struck podcast. John explores the research that Dr. Lombard is doing to detect the root cause of Alzheimer's, CTE, ALS, and Parkinson's disease and new clinical approaches to treat them and reverse their impact. Dr. Lombard goes into new MRI technology called diffusion tensor imaging (DTI) studies and how they are helping doctors understand brain flow. We also discuss his book The Mind of God in detail and the fundamental questions it answers. 
Dr. Lombard integrates biological, psychological, and existential components in his holistic treatment approach. He is the co-founder and creator of Genomind, a medicine company utilizing genetic testing to improve neuropsychiatric conditions, including Alzheimer's, Autism, and Depression. He is also the founder of the Brain Performance program at LifeSpan medicine with Dr. Chris Renna.
SHOW NOTES
0:00 Introduction
3:49 What led Jay to want to study the brain
7:37 Healing progressive neurological diseases 11:32
How to shift your beliefs in a positive direction
13:02 Using diffusion tensor imaging (DTI) to see the seat of the soul
17:31 Breaking Down Misfolded Proteins
22:20 Impact of the glymphatic system
24:54 New treatments for reversing neurodegenerative diseases
30:37 Use of Omega-3 in TBI Treatment
32:25 The use of hormone therapy for TBI
35:03 Integrated treatment approach
39:19 Why do so many people feel hopeless
41:58 Interface of our physicality with our mind
48:51 Faith and consciousness
Follow Dr. Jay Lombard
Website: https://www.drjaylombard.com/
Twitter: https://twitter.com/MindfulNeuro
Instagram: https://www.instagram.com/drjaylombard/
Facebook: https://www.facebook.com/Dr-Jay-Lombard-385420125187552/
ENGAGE WITH JOHN R. MILES
* Subscribe to my channel: https://www.youtube.com/c/JohnRMiles
* Leave a comment, 5-star rating (please!)
* Support me: https://johnrmiles.com
* Twitter: https://twitter.com/Milesjohnr
* Facebook: https://www.facebook.com/Johnrmiles.c0m.
* Medium: https://medium.com/@JohnRMiles​
* Instagram: https://www.instagram.com/john_r_miles
ABOUT JOHN R. MILES
* https://johnrmiles.com/my-story/
* Guides: https://johnrmiles.com/blog/
* Coaching: https://passionstruck.com/coaching/
* Speaking: https://johnrmiles.com/speaking-business-transformation/
* Gear: https://www.zazzle.com/store/passion_struck
PASSION STRUCK
*Subscribe to Podcast: https://podcasts.apple.com/us/podcast/the-passion-struck-podcast/id1553279283
*Website: https://passionstruck.com/
*About: https://passionstruck.com/about-passionstruck-johnrmiles/
*Instagram: https://www.instagram.com/passion_struck_podcast
*LinkedIn: https://www.linkedin.com/company/passionstruck
*Blog: https://passionstruck.com/blog/