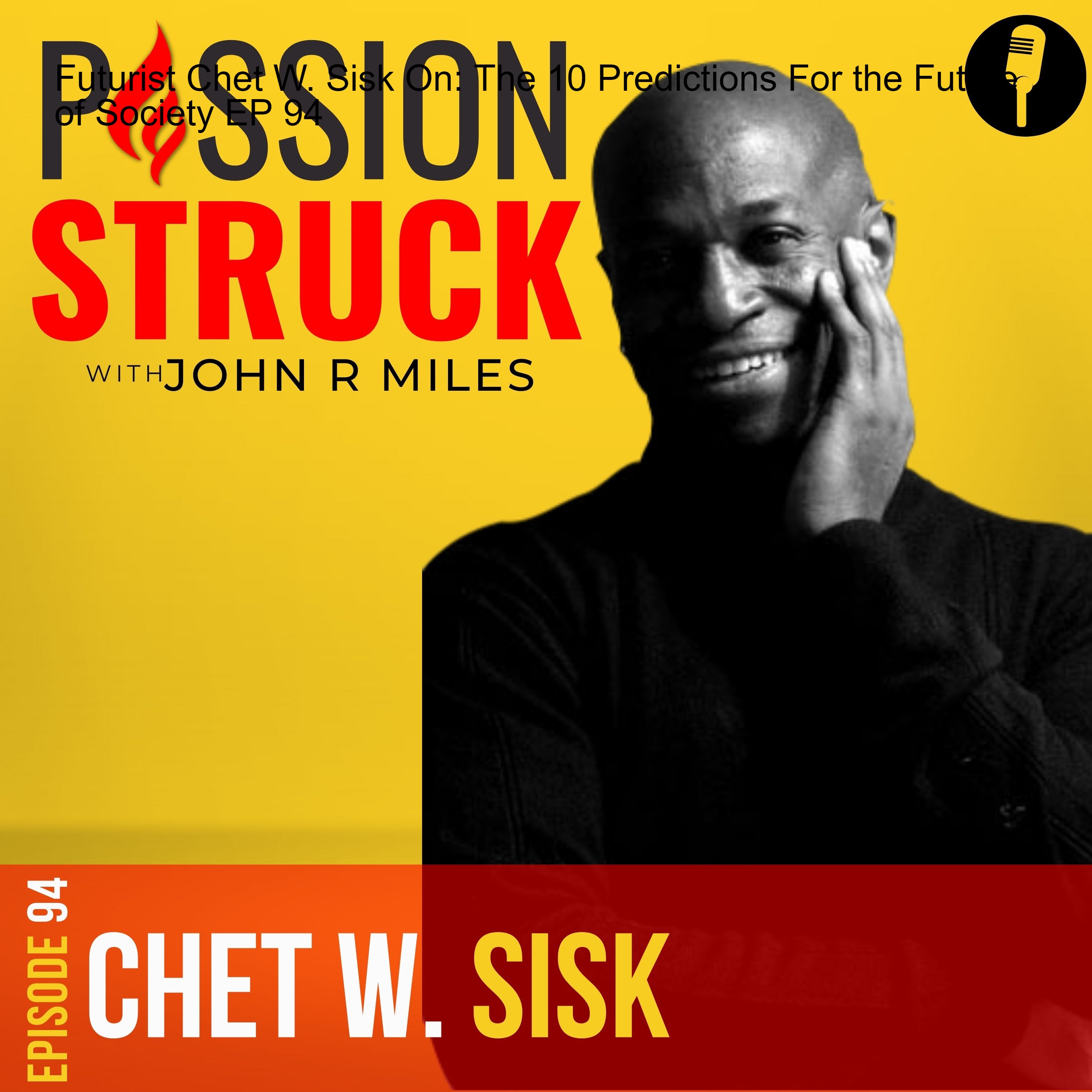 Chet W. Sisk is a futurist, entrepreneur, author, consultant, speaker, and workshop developer. He talks with John R. Miles about his ten predictions for the future of society in 2022.  Have you ever wondered what the future holds for everyone in 2022? Chet uses his skills as a futurist to assess the past to offer insights that predict what's going to happen in the future.
New to this channel and the passion-struck podcast? Check out our starter packs which are our favorite episodes grouped by topic, to allow you to get a sense of all the podcast has to offer. Go to https://passionstruck.com/starter-packs/.
Do You Need To Ship Packages? Try ShipStation
ShipStation makes shipping the easy part of running your online store. So you can get back to doing what you're passionate about—growing your business. Just go to ShipStation.com, click on the microphone at the top, and enter code PASSIONSTRUCK.
Like this? Please join me on my new platform for peak performance, life coaching, self-improvement, intentional living, and personal growth: https://passionstruck.com/ and sign up for our email list.
Learn more about me: https://johnrmiles.com.
SHOW NOTES
0:00 Introducing Chet Sisk
4:04 How do you become a futurist?
7:50 Futurism and its link to journalism
10:19 Chet talks about his transformational books
15:00 What a futurist is or isn't
17:38 Chet's first prediction for 2022
22:34 Chet's second prediction for 2022
30:35 Chet's third prediction for 2022
36:48 Chet's fourth prediction for 2022
40:51 Chet's fifth prediction for 2022
45:00 Chet's Sixth and Seventh predictions for 2022
56:31 Chet's Eighth prediction for 2022
1:01:03 Chet's ninth and tenth predictions for 2022
1:04:07 The overview effect
1:06:00 Rapid round of questions
===== FOLLOW FUTURIST CHET W. SISK =====
* Website: http://www.leadtheshift.com
* LinkedIn: https://www.linkedin.com/in/chet-w-sisk-908b597/
* Facebook: https://www.facebook.com/chet.w.sisk
===== FOLLOW JOHN R. MILES ON THE SOCIALS =====
* Twitter: https://twitter.com/Milesjohnr
* Facebook: https://www.facebook.com/johnrmiles.c0m
* Medium: https://medium.com/@JohnRMiles​
* Instagram: https://www.instagram.com/john_r_miles
* LinkedIn: https://www.linkedin.com/company/JohnMiles
* Blog: https://passionstruck.com/blog/
* Instagram: https://www.instagram.com/passion_struck_podcast
====== ABOUT JOHN ======
John R. Miles leads a global movement called Passion Struck. He is passionate about being the catalyst who helps individuals expand into the most excellent version of themselves, unlocking the most no regrets life possible. He is a combat veteran, multi-industry CEO, successful entrepreneur, top podcast host, and author who is helping people worldwide regain their passion. John is one of the most-watched, quoted, and followed high-performance trainers globally, and his leadership acumen spans more than two decades. He's founded or co-founded more than half a dozen successful start-ups, was a Fortune 50 CIO and CISO, mentors rising entrepreneurs, and invests in successful tech ventures. He graduated from the U.S. Naval Academy, where he learned vital leadership skills and was a multi-sport Division 1 athlete.