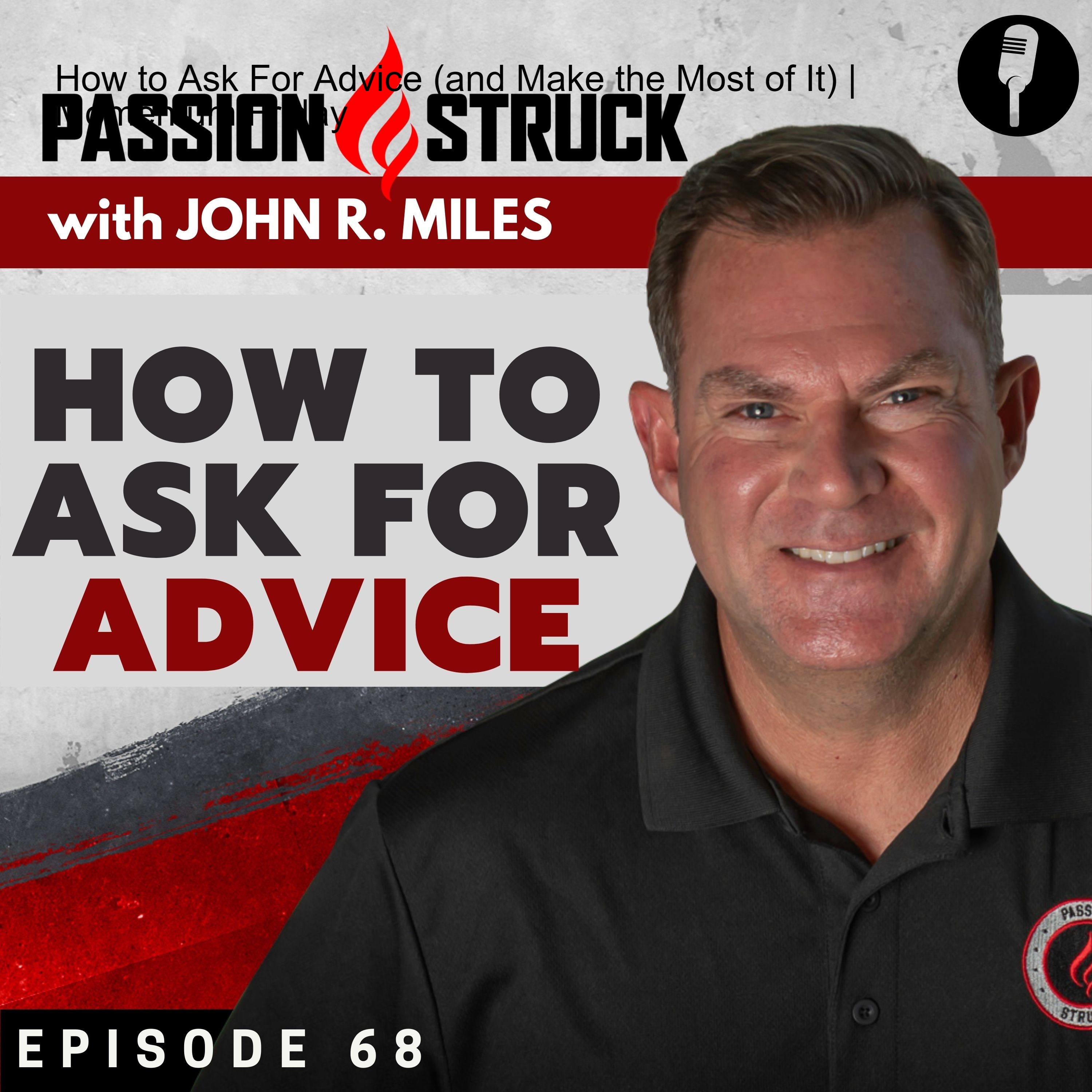 One of the questions John R Miles often gets is how to ask for advice (and make the most of it). Asking for advice the right way is one of the most important skills we can master. It's an asset that sharpens our instincts, exposes us to guidance, and brings us closer to our goals, abilities, and passion.
Like this? Please subscribe, and join me on my new platform for peak performance, life coaching, and personal growth: https://passionstruck.com/.
Thank you for listening to the Passion Struck podcast. In this powerful Momentum Friday Episode, John R. Miles discusses his six secrets to asking for advice and why asking for advice the right way is half the battle. The other half is being willing to listen to it. To get meaningful advice, you need to be specific, intentional, and explicit in what you need. Acting on advice means using it to decide the best course of action for yourself.
New Interviews with the World's GREATEST high achievers will be posted every Tuesday with a Momentum Friday inspirational message!
Show Notes
0:00 Show Introduction
1:34 Asking for help is hard
2:45 Why people don't know how to ask for advice
3:20 Understand the advice you are seeking
3:58 Tone of Voice is Vital
4:58 Suppress Your Ego
6:02 Come Prepared When Asking for Advice
7:10 Be Open-Minded
7:51 Choose your advisor wisely
11:10 How do you act on the advice you are given?
ENGAGE WITH JOHN R. MILES
* Subscribe to my channel: https://www.youtube.com/c/JohnRMiles
* Leave a comment, 5-star rating (please!)
* Support me: https://johnrmiles.com
* Twitter: https://twitter.com/Milesjohnr
* Facebook: https://www.facebook.com/Johnrmiles.c0m.
* Medium: https://medium.com/@JohnRMiles​
* Instagram: https://www.instagram.com/john_r_miles
ABOUT JOHN R. MILES
* https://johnrmiles.com/my-story/
* Guides: https://johnrmiles.com/blog/
* Coaching: https://passionstruck.com/coaching/
* Speaking: https://johnrmiles.com/speaking-business-transformation/
* Gear: https://www.zazzle.com/store/passion_struck
PASSION STRUCK
*Subscribe to Podcast: https://podcasts.apple.com/us/podcast/the-passion-struck-podcast/id1553279283
*Website: https://passionstruck.com/
*About: https://passionstruck.com/about-passionstruck-johnrmiles/
*Instagram: https://www.instagram.com/passion_struck_podcast
*LinkedIn: https://www.linkedin.com/company/passionstruck
*Blog: https://passionstruck.com/blog/