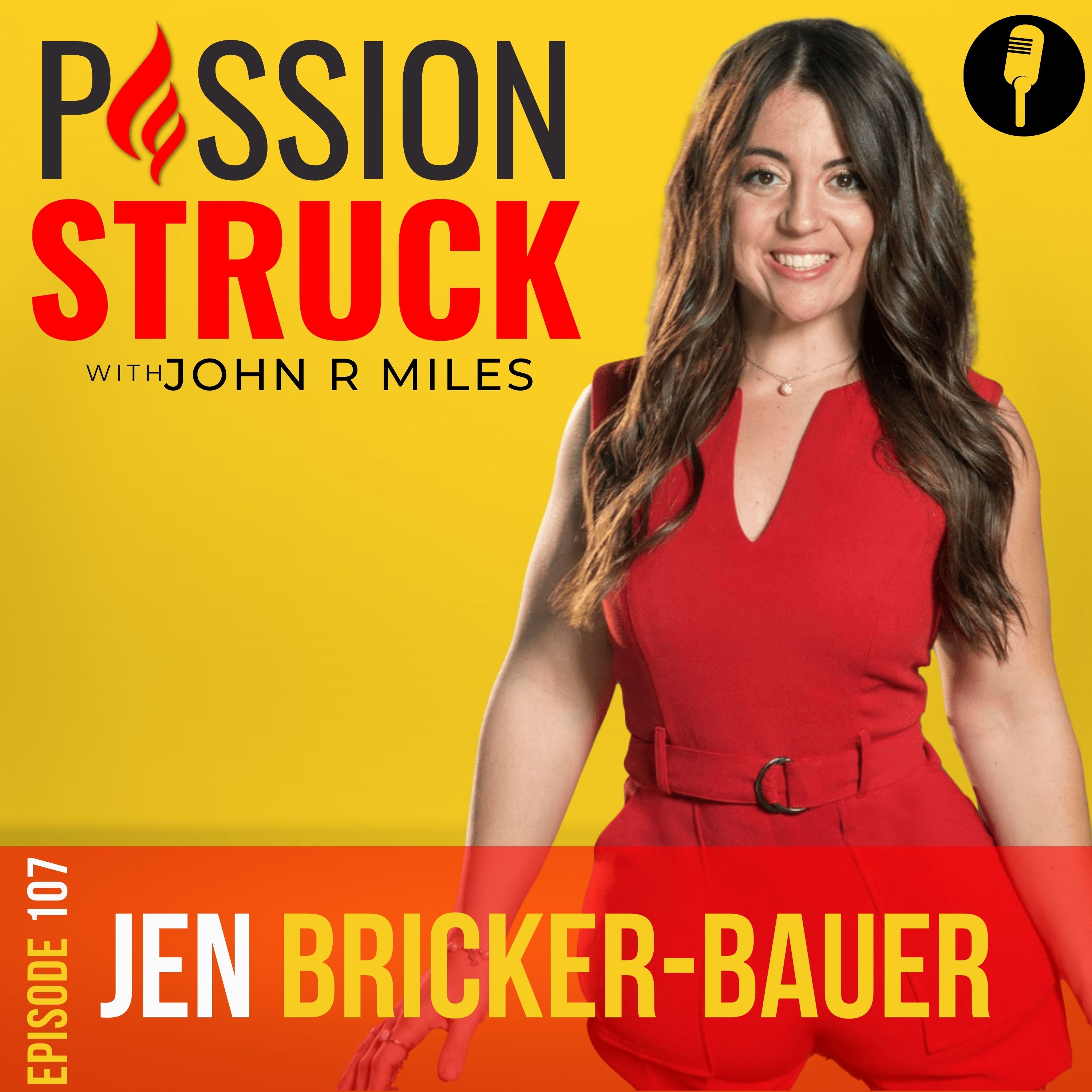 Jen Bricker-Bauer is an aerialist, motivational speaker, and New York Times, bestselling author. Born without legs, Jen's biological parents left her at the hospital, destined for a life of hardship. However, the hand of God brought her an amazing adoptive family, who taught her that everything is possible.
As a child, Jen was obsessed with gymnastics, and her idol was gold medalist Dominique Moceanu. In fact, watching Dominique on TV, helped inspire Jen to start competing herself. Seemingly against all odds, Jen competed against able-bodied athletes and became a State Champion in power tumbling. As part of her fantastic story and a twist of fate, Jen later learned that her childhood gymnastics idol, Dominique Moceanu, was actually her biological sister.
John R. Miles sits down with Jen Bricker-Bauer to talk about why she never says the word "can't" and how she has come to believe that everything is possible if you set your mind to it. You learn that you can achieve everything you've dreamed of when you unlock your purpose and create an intentional life. Jen discusses why she is doing everything she can to spread inspiration and joy throughout the world and is following her calling to teach others they can do anything they put their minds to achieving.
Get a copy of Jen's book: https://amzn.to/3BicKcs.
Watch her TED TALK: https://www.ted.com/talks/jen_bricker_everything_is_possible
Check Out Our Sponsors:
ATHLETIC GREENS: Get a free one year's supply of Vitamin D and five travel packs at athleticgreens.com/passionstruck.
MAGIC MIND: Get 20% off Magic Mind @magicmind.co/passionstruck and use code passionstruck.
SURF SHARK: Get 83% off Surf Shark VPN and three extra months free @surfshark.deals/passionstruck, use the promo code passionstruck.
Thank you for listening to this podcast. I hope you keep up with the weekly videos I post on the YouTube channel, subscribe to, and share your learnings with those who need to hear them. Your comments are my oxygen, so please take a second and say 'Hey' ;).
-- ► Subscribe to My Channel Here: https://www.youtube.com/c/JohnRMiles
SHOW NOTES
0:00 Introduction
0:47 Introducing guest Jen Bricker-Bauer
4:11 Athletic Greens and Surf Shark
7:29 Jen's adoption story
12:34 God doesn't make mistakes
15:16 Magic Mind
16:51 How her parents influenced her
19:12 Never Say "CAN'T"
24:26 Story of her idol Dominique Moceanu
28:22 If you help one person it is worth it
32:30 Learning Dominique Moceanu is her biological sister
38:44 The connection she felt with her sisters
42:43 The impact of her internship with Disney
43:46 Coming to a cross-road: fashion or acrobat/aerialist
47:00 How to push through discouragement
49:56 Britney Spears world tour broke down barriers
54:10 How performing led to her motivational speaking and book
58:51 Tedx Talk and her mentality about sharing her life story
102:31 Making change starts with changing yourself
106:19 Why God uses her to help other people
110:08 Jen discusses her brand new act
111:28 Rapid round of questions
HOW TO CONNECT WITH JEN
* Website: https://jenbricker.com/
* Instagram: https://www.instagram.com/jenbricker/
* Facebook: https://www.facebook.com/JenBricker1
* YouTube: https://www.youtube.com/user/JenBricker1
* LinkedIn: https://www.linkedin.com/in/jenbricker/
FOLLOW JOHN ON THE SOCIALS
* Twitter: https://twitter.com/Milesjohnr
* Facebook: https://www.facebook.com/johnrmiles.c0m
* Medium: https://medium.com/@JohnRMiles​
* Instagram: https://www.instagram.com/john_r_miles
* LinkedIn: https://www.linkedin.com/in/milesjohn/
* Blog: https://passionstruck.com/blog/
* Instagram: https://www.instagram.com/passion_struck_podcast/
* Gear: https://www.zazzle.com/store/passion_struck/
-- John R. Miles is a serial entrepreneur and the CEO and founder of Passion Struck. This full-service media company helps people live intentionally by creating best-in-class educational and entertainment content. John is also a prolific public speaker, venture capitalist, and author named to the ComputerWorld Top 100 IT Leaders.
John is the host of the PassionStruckPodcast. A show focused on exploring the mindset and philosophy of the world's highest achievers to learn their lessons to living intentionally. Passion Struck aspires to speak to the humanity of people in a way that makes them want to live better, be better and impact.
Stay tuned for John's latest project, his upcoming book, which will be published in summer 2022.
Learn more about me: https://johnrmiles.com.
New to this channel and the passion-struck podcast? Check out our starter packs which are our favorite episodes grouped by topic, to allow you to get a sense of all the podcast has to offer. Go to https://passionstruck.com/starter-packs/.
Like this? Please join me on my new platform for peak performance, life coaching, self-improvement, intentional living, and personal growth: https://passionstruck.com/ and sign up for our email list.