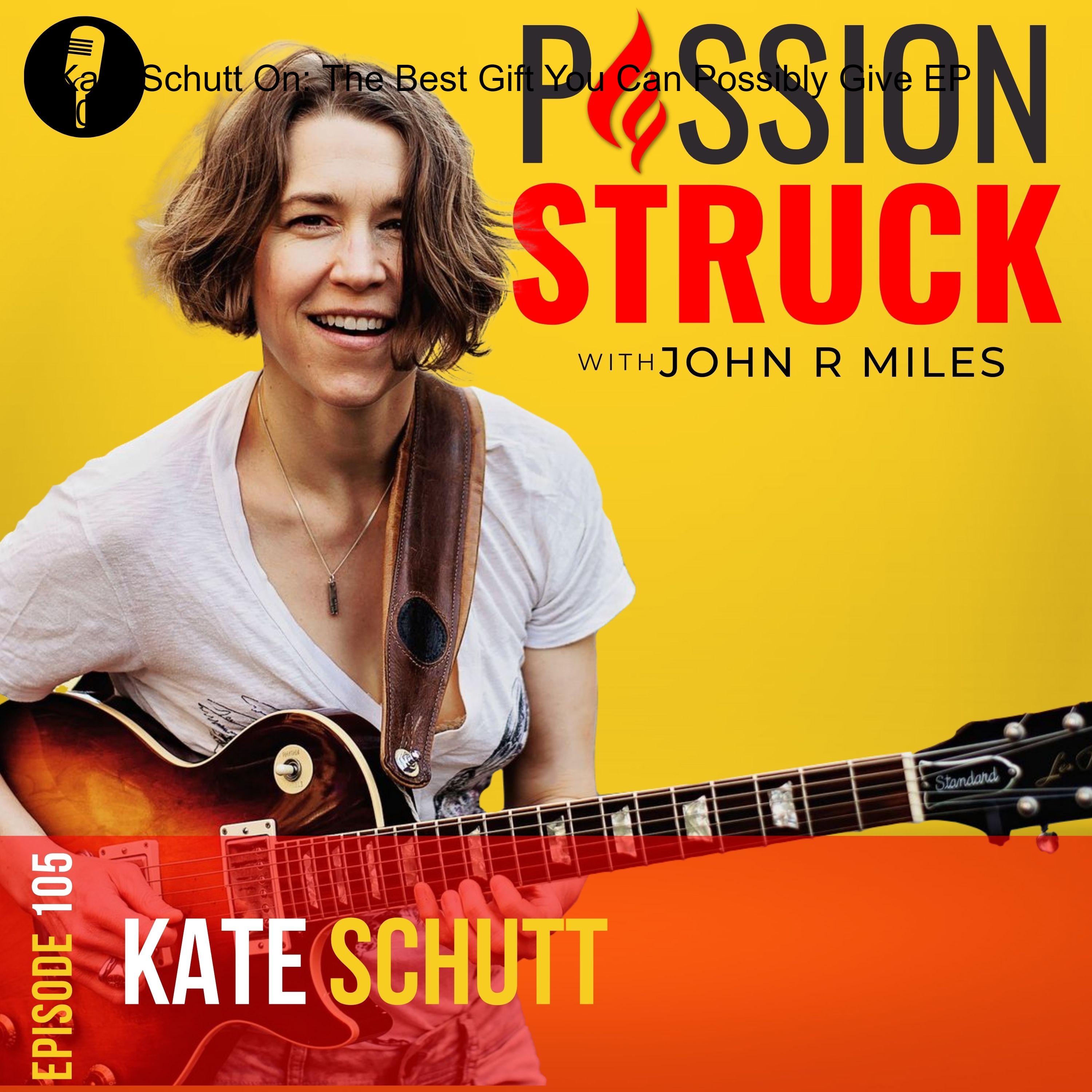 Check Out Our Sponsors:
NUTRAFOL: Get $15 off your first month at nutrafol.com promo code PASSIONSTRUCK.
GRAMMARLY: Get 20% off premium at grammarly.com/PASSIONSTRUCK.
"But you will never know the impact of just deciding to act and using your heart to say, 'what would really help them right now' that I don't even need to ask to do." - Kate Schutt
Kate Schutt is an award-winning songwriter, singer, guitarist, and producer. She is also a life coach. In 2018, Schutt gave a TEDx talk, "A Grief Casserole." Kate Schutt is the rarest of combinations… brilliance and humility, wisdom and curiosity, creativity and intellect. Each on its own is a gift; in combination, extraordinary.
"Kate's newest album Bright Nowhere is the ultimate reveal with storytelling so emotionally raw and honest, yet, truly inspirational in its humanity and musicality." -Kevin Killen, eight-time Grammy-winning producer.
Our conversation ranged far and wide, covering everything from the background on why NPR calls her voice "glassily clear and glossily sweet," the secrets to true fulfillment in life, to the best gift you can possibly give someone.
Thank you for listening to this podcast. I hope you keep up with the weekly videos I post on the YouTube channel, subscribe to, and share your learnings with those who need to hear them. Your comments are my oxygen, so please take a second and say 'Hey' ;).
-- ► Subscribe to My Channel Here: https://www.youtube.com/c/JohnRMiles
SHOW NOTES
0:00 Introduction
1:12 Kate Schutt Introduction
3:20 Nutrafol and Grammarly
6:19 What it was like for Kate to be the little sister
9:26 Importance of exposing kids to music
13:00 Tina Turner's influence on Kate's passion for music
19:35 Pink and other musical influences
25:54 Kate's TEDx Talk called "Grief Casserole."
33:18 Learning how to handle mortality
37:36 The importance of action to help others
42:02 Helping people make potent changes
45:49 The preciousness of cherishing every moment
49:29 How as a "death coach" Kate teaches mortality awareness
52:48 Generational trauma
56:26 How division one sports taught Kate intentionality
104:00 Lightning round of questions
FOLLOW KATE SCHUTT
Website: https://www.kateschutt.com/
* IG: https://www.instagram.com/kateschutt/
* FB: https://www.facebook.com/kateschuttmusic/
* Twitter: https://twitter.com/kateschutt
* LI: https://www.linkedin.com/in/kateschutt/
FOLLOW JOHN ON THE SOCIALS
* Twitter: https://twitter.com/Milesjohnr
* Facebook: https://www.facebook.com/johnrmiles.c0m
* Medium: https://medium.com/@JohnRMiles​
* Instagram: https://www.instagram.com/john_r_miles
* LinkedIn: https://www.linkedin.com/in/milesjohn/
* Blog: https://passionstruck.com/blog/
* Instagram: https://www.instagram.com/passion_struck_podcast/
* Gear: https://www.zazzle.com/store/passion_struck/
-- John R. Miles is a serial entrepreneur and the CEO and founder of Passion Struck. This full-service media company helps people live intentionally by creating best-in-class educational and entertainment content. John is also a prolific public speaker, venture capitalist, and author named to the ComputerWorld Top 100 IT Leaders.
John is the host of the PassionStruckPodcast. A show focused on exploring the mindset and philosophy of the world's highest achievers to learn their lessons to living intentionally. Passion Struck aspires to speak to the humanity of people in a way that makes them want to live better, be better and impact.
Stay tuned for John's latest project, his upcoming book, which will be published in summer 2022.
Learn more about me: https://johnrmiles.com.
New to this channel and the passion-struck podcast? Check out our starter packs which are our favorite episodes grouped by topic, to allow you to get a sense of all the podcast has to offer. Go to https://passionstruck.com/starter-packs/.
Like this? Please join me on my new platform for peak performance, life coaching, self-improvement, intentional living, and personal growth: https://passionstruck.com/ and sign up for our email list.