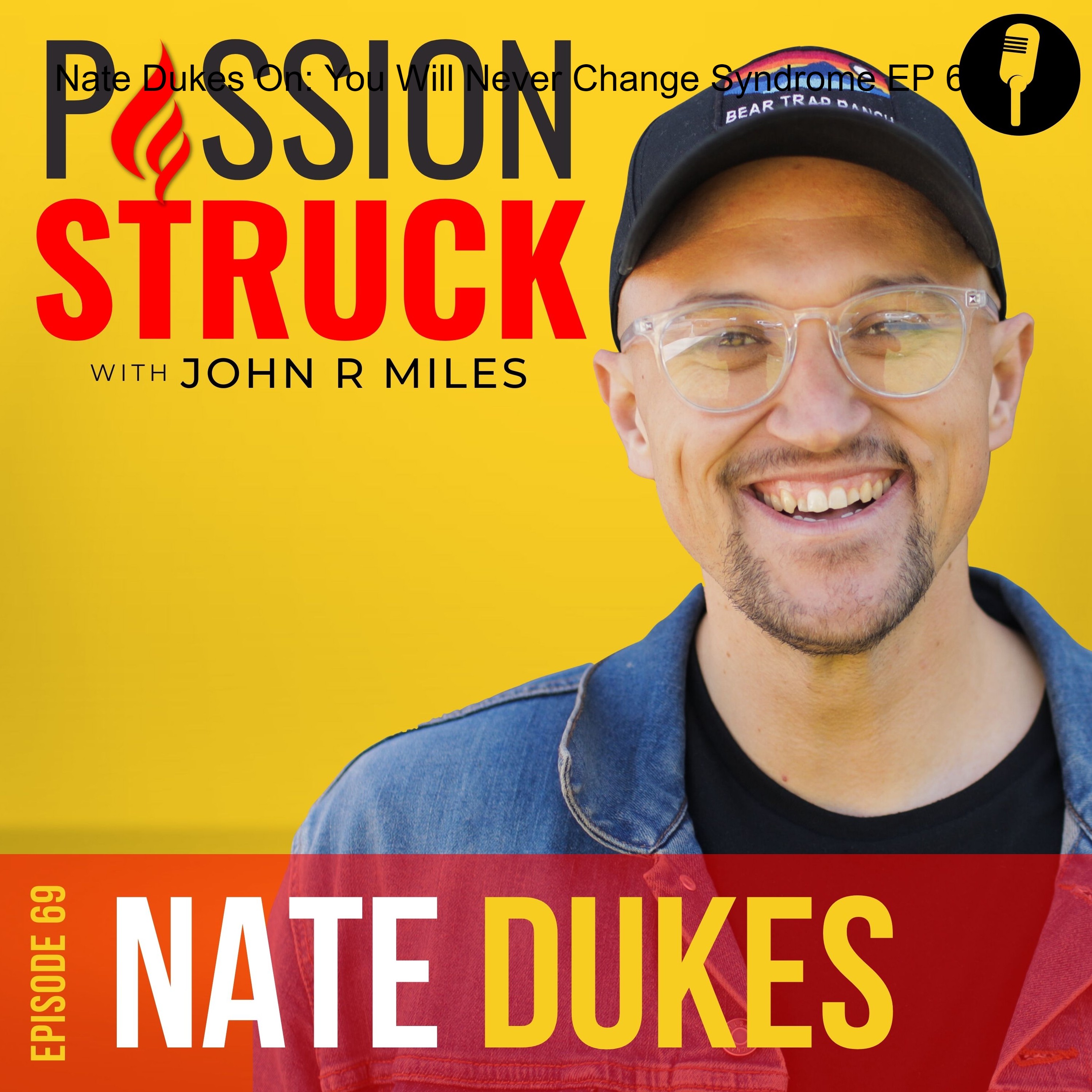 Nate Dukes sits down with John R Miles to discuss you will never change syndrome plaguing society. You Will Never Change. I bet you've heard that line before. From friends? Family? Maybe you've said it to yourself. Regardless of the source, it hurts to hear. But it hurts even worse when you agree.
Like this? Please subscribe, and join me on my new platform for peak performance, life coaching, and personal growth: https://passionstruck.com/. And join the Facebook page to become part of the passion struck movement: 
Thank you for Watching the Passion Struck podcast. Nate Dukes is an Author and Speaker, but in his early twenties, he was a business owner chasing success while dealing with secret drug addiction. After constantly hitting rock bottom, hurting everyone close, stealing a car, and going to jail, Nate went on a journey to change his mindset and decisions, which helped him create his own comeback story. He quickly found that there were other people, just like him, who were stuck believing the lie that they'd never change. Through his book, onstage speaking, and personal coaching, Nate shares what he's learned to help others make their comeback.
New Interviews with the World's GREATEST high achievers will be posted every Tuesday with a Momentum Friday inspirational message!
Nate Dukes Show Notes
0:00 Nate Dukes teaser
1:13 Show Intro
3:44 Why Nate thought his life was too messed up to change
16:15 How to break free of the wrong environment for us to thrive
21:35 Why it is so difficult to action and why waiting is the hardest part
28:08 How he is helping people who feel stuck
34:19 The difference between jail and being in prison
38:00 How you build your life back brick by brick
42:22 His advice on overcoming a drug addiction
45:10 What it means to be a visionary arsonist and its correlation to you will never change syndrome
49:36 What topic he would do a commencement speech on
ENGAGE WITH NATE DUKES
Website - https://www.youllneverchange.com
Instagram - https://www.instagram.com/whoisnatedukes/
Facebook - https://www.facebook.com/whoisnatedukes/
Order Book on Amazon - https://www.amazon.com/dp/057888996X
Be a part of someone else's comeback story and "Pay It Forward" - https://www.youllneverchange.com/payitforward
ENGAGE WITH JOHN R. MILES
* Subscribe to my channel: https://www.youtube.com/c/JohnRMiles
* Leave a comment, 5-star rating (please!)
* Support me: https://johnrmiles.com
* Twitter: https://twitter.com/John_RMiles
* Facebook: https://www.facebook.com/Johnrmiles.c0m.
* Medium: https://medium.com/@JohnRMiles​
* Instagram: https://www.instagram.com/john_r_miles
ABOUT JOHN R. MILES
* https://johnrmiles.com/my-story/
* Guides: https://johnrmiles.com/blog/
* Coaching: https://passionstruck.com/coaching/
* Speaking: https://johnrmiles.com/speaking-business-transformation/
* Gear: https://www.zazzle.com/store/passion_struck
PASSION STRUCK
*Subscribe to Podcast: https://podcasts.apple.com/us/podcast/the-passion-struck-podcast/id1553279283
*Website: https://passionstruck.com/
*About: https://passionstruck.com/about-passionstruck-johnrmiles/
*Instagram: https://www.instagram.com/passion_struck_podcast
*LinkedIn: https://www.linkedin.com/company/passionstruck
*Blog: https://passionstruck.com/blog/