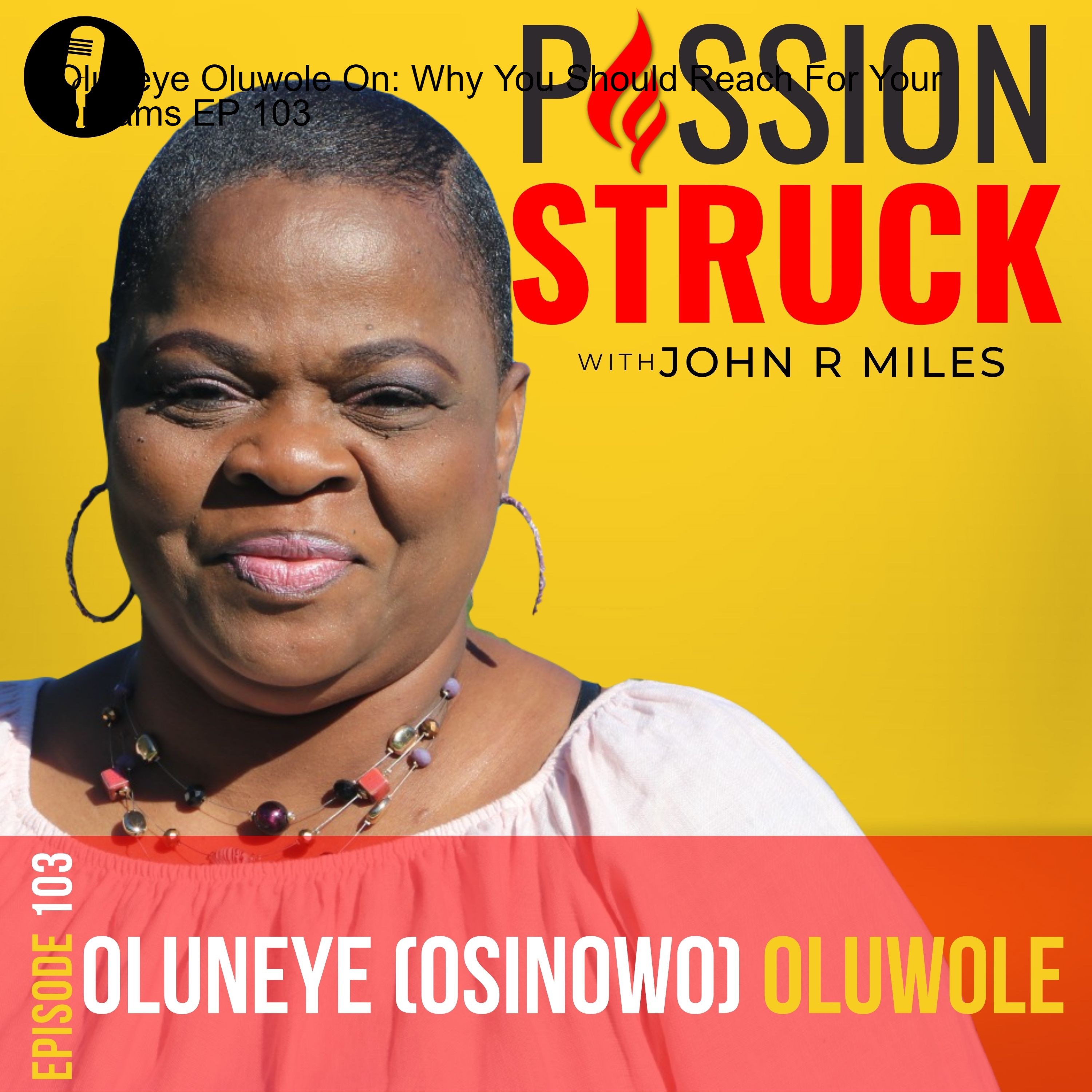 Imagine realizing you were in a relationship devaluing you and your gifts?
You spiraled down to the lowest depths of your life.
You had to take a brutal look at yourself and those things you allowed to happen because you lived life to please others, but not satisfy YOURSELF.
And then recovering and rediscovering who YOU are as a result? You started to look at your life as saying yes to opportunities. And taking that step means doors opening, and those doors leading you to a higher calling of whom you are meant to be and how you're meant to impact your world.
👇 THIS is the Oluneye Oluwole Story. 
In this episode, John R. Miles is joined by Oluneye Oluwole, a serial entrepreneur, multi-sector entrepreneurship incubator, relationship builder, and administrator with a passion for economic empowerment, leadership, and sustainable development.
Thank you for listening to this podcast. I hope you keep up with the weekly videos I post on the YouTube channel, subscribe to, and share your learnings with those who need to hear them. Your comments are my oxygen, so please take a second and say 'Hey' ;).
-- ► Subscribe to My Channel Here: https://www.youtube.com/c/JohnRMiles
Check Out Ten Thousand Men's Apparel!
At the heart of Ten Thousand is a stoic dedication to continuous improvement. Every day faster, every day stronger, every day BETTER THAN YESTERDAY. Ten Thousand is offering our listeners 15% off their purchase. GO TO TEN THOUSAND DOT CC and enter code PASSIONSTRUCK to receive 15% OFF YOUR PURCHASE!
Have You Tried Athletic Greens?
Athletic Greens is a custom formulation of 75 vitamins, minerals, and other whole-food sourced ingredients that make it easier for you to maintain nutrition in just a single scoop. It tastes great and gets you the nutrients you need, whether you're working on the go, fueling an active lifestyle, or just maintaining your good health. Visit https://athleticgreens.com/passionstruck to get a FREE year supply of Liquid Vitamin D + 5 FREE Travel Packs with the subscription.
SHOW NOTES
0:00 Introduction
3:33 Ten Thousand and Athletic Greens
6:27 Saying YES to opportunities
13:18 Becoming an accidental politician
17:00 Not Knowing your authentic self
23:26 Doing a brutal assessment of oneself
30:40 Being the only woman on Executive Council in Nigeria
33:28 How to value yourself
36:41 Spend time with ourselves first
41:01 Do an audit of your life
47:15 The future of social entrepreneurship for women
53:37 The biggest lesson Oluneye learned from living in Nigeria
57:40 Rapid round of questions
-- John R. Miles is a serial entrepreneur and the CEO and founder of Passion Struck. This full-service media company helps people live intentionally by creating best-in-class educational and entertainment content. John is also a prolific public speaker, venture capitalist, and author named to the ComputerWorld Top 100 IT Leaders.
John is the host of the PassionStruckPodcast. A show focused on exploring the mindset and philosophy of the world's highest achievers to learn their lessons to living intentionally. Passion Struck aspires to speak to the humanity of people in a way that makes them want to live better, be better and impact.
Stay tuned for John's latest project, his upcoming book, which will be published in summer 2022. Learn more about me: https://johnrmiles.com.
FOLLOW OLUNEYE OLUWOLE
IG: https://www.instagram.com/oluneyespeaks/
LI: https://www.linkedin.com/in/oluneyeoluwole/
Twitter: @OluneyeOlu
===== FOLLOW JOHN ON THE SOCIALS =====
* Twitter: https://twitter.com/Milesjohnr
* Facebook: https://www.facebook.com/johnrmiles.c0m
* Medium: https://medium.com/@JohnRMiles​
* Instagram: https://www.instagram.com/john_r_miles
* LinkedIn: https://www.linkedin.com/in/milesjohn/
* Blog: https://passionstruck.com/blog/
* Instagram: https://www.instagram.com/passion_struck_podcast/
* Gear: https://www.zazzle.com/store/passion_struck/
New to this channel and the passion-struck podcast? Check out our starter packs which are our favorite episodes grouped by topic, to allow you to get a sense of all the podcast has to offer. Go to https://passionstruck.com/starter-packs/.
Like this? Please join me on my new platform for peak performance, life coaching, self-improvement, intentional living, and personal growth: https://passionstruck.com/ and sign up for our email list.