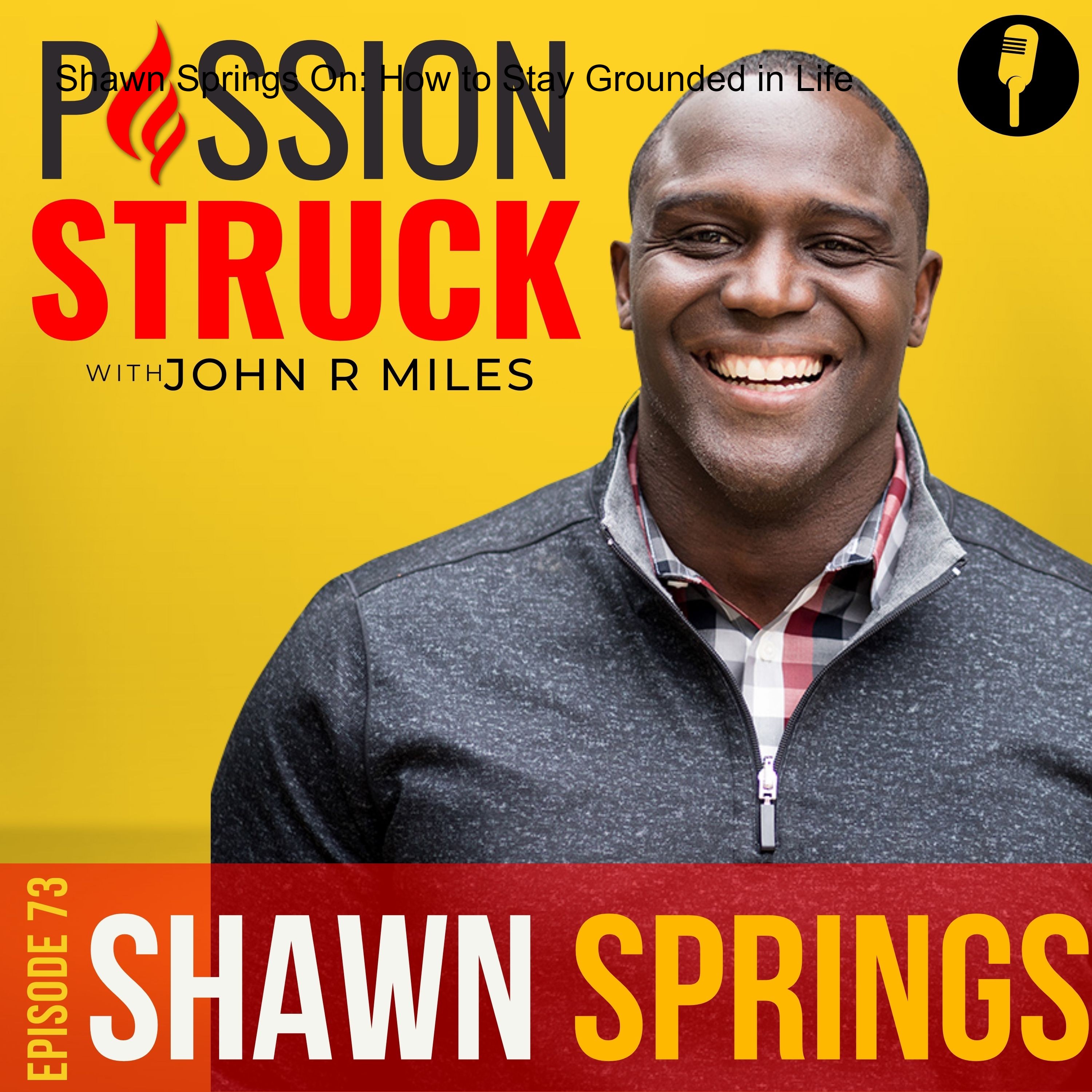 Former NFL pro bowl cornerback Shawn Springs sits down with John R Miles to discuss how to stay grounded in life. We discuss how a traumatic brain injury he suffered while playing for the Washington Redskins, changed his life and created his passion to create better protection for future generations.
Like this? Please subscribe, and join me on my new platform for peak performance, life coaching, and personal growth: https://passionstruck.com/.
Boulder Crest Foundation: https://bouldercrest.org/.
Thank you for listening to the Passion Struck podcast. Shawn Springs is a former professional football player who was a cornerback in the National Football League for 13 seasons playing with the Seahawks, Redskins, and Patriots. He played college football for Ohio State University and earned All-American honors. He was the highest pick ever to be drafted as a cornerback. Today, Shawn in s the CEO of Windpact where he built a core team of engineers, designers, and world-class scientists all dedicated to improving impact protection.
During our discussion, we discuss his journey to the NFL, some of the highlights from his career, the one play on Dec 12, 2004, that completely changed his life when he was with the Washington Redskins, his board role with the Boulder Crest foundation, his path to becoming an entrepreneur, his mentorship with Microsoft founder Paul Allen, and his advice to those wishing to become passion struck as well as a bunch of fun questions about his time in the league.
New Interviews with the World's GREATEST high achievers will be posted every Tuesday with a Momentum Friday inspirational message!
SHOW NOTES
0:00 Shawn Springs Teaser
1:04 Show intro and background on Shawn Springs
3:50 Michigan vs. Ohio State University Rivalry
5:19 Why he got involved with the Boulder Crest Foundation and what it does
6:51 His experience with Roger Staubach
7:40 What is post-traumatic growth and mission of Warrior PATTH
10:40 What was going through his head when he was became the highest-drafted cornerback
13:49 Playing for the Seattle Seahawks and the mentoring he received from Paul Allen
17:00 The most talented wide-receivers he ever played against
19:00 His experience playing with Tom Brady and what makes Tom so great
21:46 The traumatic injury in 2004 that almost stopped his career and led to his current passion
24:24 Why he founded Windpact and what the company is doing to prevent head injuries
29:57 He discusses becoming an entrepreneur and the fear of having to do pitches
32:54 Shawn Spring's advice to those who are leaving the NFL
37:45 His advice on career reinvention and becoming an entrepreneur
40:56 The importance of celebrating the small wins
42:08 His secret to how to stay grounded in life
46:35 His predictions on the NFC East and Washing Football team renaming
ENGAGE SHAWN SPRINGS AND WINDPACT
*Website: https://windpact.com/
*LinkedIn: https://www.linkedin.com/company/windpact/
*Instagram: https://www.instagram.com/windpact/
*Twitter: https://twitter.com/windpactinc
ENGAGE WITH JOHN R. MILES
* Subscribe to my channel: https://www.youtube.com/c/JohnRMiles
* Leave a comment, 5-star rating (please!)
* Support me: https://johnrmiles.com
* Twitter: https://twitter.com/Milesjohnr
* Facebook: https://www.facebook.com/Johnrmiles.c0m.
* Medium: https://medium.com/@JohnRMiles​
* Instagram: https://www.instagram.com/john_r_miles
ABOUT JOHN R. MILES
* https://johnrmiles.com/my-story/
* Guides: https://johnrmiles.com/blog/
* Coaching: https://passionstruck.com/coaching/
* Speaking: https://johnrmiles.com/speaking-business-transformation/
* Gear: https://www.zazzle.com/store/passion_struck
PASSION STRUCK
*Subscribe to Podcast: https://podcasts.apple.com/us/podcast/the-passion-struck-podcast/id1553279283
*Website: https://passionstruck.com/
*About: https://passionstruck.com/about-passionstruck-johnrmiles/
*Instagram: https://www.instagram.com/passion_struck_podcast
*LinkedIn: https://www.linkedin.com/company/passionstruck
*Blog: https://passionstruck.com/blog/